Even with all this craziness of the pandemic,  we still need teachers. We still need people who are looking to serve, lead and inspire.
Basically the world needs you… which means you need to keep showing up and stay on top of your teaching, yet still look after yourself and your family.
One of the biggest questions we've been getting is " How do I teach my students (especially young students K-5 or  K-6) virtually?"
So we've put together a remote teachers package using some of our curriculum materials. This program is put together to support teachers during the coronavirus outbreak – the program consists of 28 lessons for all primary or elementary grades from level K upwards. All you need to do is download the remote teaching plans where you'll find a short email to your students outlining these 3 easy steps:  
Step 1 : Watch this introduction video and learn the words and actions: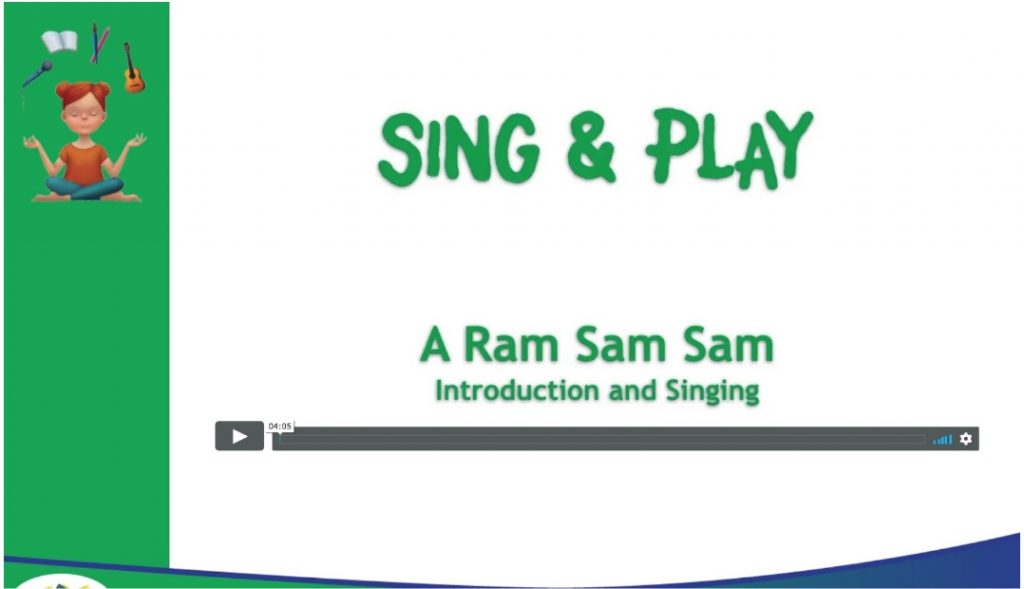 In this video I demonstrate with  step by step instructions what the song means, some simple fun actions and a quick extension idea students can practice with their families at home or  in their classroom.
Watching this, you'll see how you can keep a consistent approach with every student and when they come back to school you can revise this song as a class.
Once you see the inner workings of setting this music lesson up, (which we've spent years teaching and researching the steps on how to teach music), you'll be able to use this system of learning to build into your own teaching using any song to start. No need to reinvent the wheel.
At home singing lesson preview: Watch how a student can learn the words and actions for an entire song in minutes while the teacher can still use the same content for any classroom lesson.
Step 2 : Watch this second video and learn how singing the song can progress into learning rhythms to play the song. 
When was the last time you had the chance to sit on in a lesson and actually see how a teacher progresses from one activity to learn something new? Never
If you've ever been nervous about teaching something new in music, the old and usual piece of advice is be confident- and that doesn't help much, especially in such stressful situations. In Curriculum at home we decided to give you a level of specificity you cannot find anywhere else.
 Like watching how an actual lesson progresses.
 In this Curriculum At Home sneak peek, watch exactly the steps to make playing effortless.  Even though I refer to the instruments, there is no need to use them.  This way the children are still learning about them and working in the understanding of musical reading while working it into musical cues to listen for as a reminder of when and how to play.
 Watch this Curriculum At Home excerpt : 
Students at home learn each of three parts by clapping or tapping your lap while watching the video.
 Use the following actions for each instrument:
The tambourine: clap hands together
The triangle: tap your index fingers together.
The drum: pat your lap.
Step 3: Send instructions for the at home Lesson Activity which is to make a home-made instrument and play the song.
 Students choose to make a drum, a triangle or a tambourine at home. They can search "make a simple drum" or "make a simple tambourine" on Google tol find lots of ideas for how to make a simple instrument. Make the instrument, and then choose one of the three parts in "A Ram Sam Sam" and play along with the second video above.
 When they can play it, they can video themselves playing the piece and email it back to the teacher.
 You'll find the full PDF at home student lesson plan and links to the all videos here
These videos are just one of many in our Curriculum At Home lessons that demystify the process of how to start with learning  a song and growing it into a full set of playing parts.
As you can see, this material is totally different from anything you'll find in other programs and it continues to teach music with a consistent format, language style and a proven set of time-tested pedagogies.
If you want more – including how to go from "no idea" to creating lessons for all grades K-5 or K-6 be sure to get started with this and more free lessons here. 
I can't wait for you to start using these plans and get the continued teaching success you deserve even if you're teaching students remotely!