A Sneak Peak of our World Music Teaching Resource
Today at the Fun Music Company today, we are extremely excited to announce the launch of our long awaited music lesson plan resources called  World Music Lesson Plans.
We have been working on this set of teaching resources for months now and we know that it contains an incredible amount of value especially for classroom teachers who need a term (or more's!) lessons on an interesting subject.  It is ideal for junior high school level, there is enough content in the materials to adapt and study in more depth at the senior high school level or to make it simpler for mid-upper primary school students.  It is so easy to prepare and use that you could even hand it to a substitute/relief teacher with very little music knowledge.
Like all of our materials, these are not rigid lesson structures where you are "told" to do a lesson in a particular order and in a certain way: we know that all classes and schools are different, so we give you enough ideas that you can pick and choose which activities suit your students.
What makes this set of resources really exciting  is by using these materials teachers have at least  a whole years curriculum for general music classes saving music teachers over a thousand hours per year in developing and producing these materials themselves.  Throughout the whole process, we work with a dedicated team of the most experienced teachers, writers, editors and artists who commit hours and hours to these projects and we would like to commend them for such a fun, relevant and comprehensive set of materials. Click here for details on all the other products in the Music Lesson Plan Series.
When we started this project, we began with the end in mind. We found that when you scour the internet for World Music related topics, you'll find loads of information. Websites like Wikipedia are an excellent resource, but the problem with it for kids is that it is all  just too much. There's too many unknown words and performer names, there's not enough visual pictures of actual instruments and the the way they work and there's no reference to what they sound like or how they're played. Of course, these then are the qualities that we wanted to incorporate into our written fact sheets, but over the years we have also found that teachers need to have variety of other resources available at a moments notice to keep the enthusiasm and motivation levels high throughout the term. Here are just some of the key benefits that you can expect to find in this set of resources which make it different from any other resource.
In World Music Lesson Plans, you'll find:
A set of fourteen comprehensive, but easy to read fact sheets in two different styles.
The choice is yours! If you need a substitute/relief lesson then it is easy to pull out a comprehension style fact sheet where the students could read it either individually or aloud as a group or class. The other option is to use a "fill in the gap" style worksheet where you can be talking and giving the content via a whiteboard or other kind of presentation and the students are actively writing in the answers as you talk encouraging them to remember more. Click here for more details on the world music topics and content.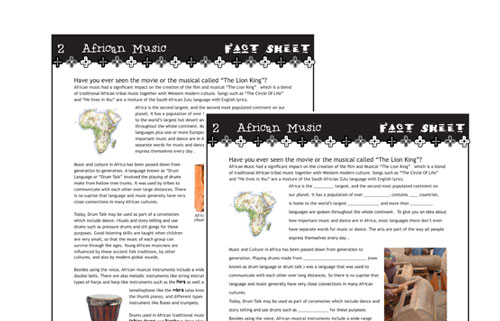 A never ending supply of fresh lesson ideas to help make the topic come alive in the classroom.
We are very aware that there is far more to a great lesson than giving out a fact sheet and taking notes. Don't get me wrong- this is certainly part of the learning process, but the "Magic Moments" and activities you do together in class are how your students will remember and how they incorporate their knowledge into their everyday life. For every lesson, there are several fully explained lesson ideas which are fun activities and are relevant to today's kids. These can be used for the whole class or smaller groups within the class and encourage your students to learn more and have fun with the information presented to them.
A set of  Whiteboard or Projector Presentations to go with each lesson topic.
I'm sure we all agree that using a variety of tools in the classroom can be a motivating way to engage students into learning new content. Since most schools are implementing interactive whiteboards or at least use data projectors, we realize that it is imperative to be able to use our materials with these tools. World Music Lesson Plans has a set of powerpoint slides to go with each topic of this course. You can use these to encourage your students to think for themselves, to talk as you teach and it enables you to show large pictures and link to good quality recordings at the click of a button.

Fourteen Fun Worksheets – One for Each Topic
At this level of learning, we realize that it's important to put new knowledge into practice and for teachers to have a way to asses the retention of the materials taught. Traditional resource formats use loads of find- a words and crosswords to achieve this and so do we, but we also know that after a while too many of these can get just plain boring! So In World Music Lesson Plans we have looked for a mix of fun activities that can be done on each topic to help increase retention and be fun to do. We call these FunSheets and students will be able to find out more trivia and information about each world music topic by de-coding messages, matching instrument picture puzzles and finding out more about the instruments of world music by doing activities based on them.

Links to relevant you Tube Resources and Websites Related to each World Music Topic
Listening to the music is an incredibly important part to learning about the topic to give an auditory and visual element to the topic. These days it's much easier to get access to great quality music for free using websites such as youtube, grooveshark and itunes, but the  question is where do you start and how much time do you want to spend finding the "gold" recordings? My bet is that it always takes much longer than you want it to! So in World Music Lesson Plans we've aimed to take this stress away by making an online resource area which links the best musical examples we could find. The great news is that this area is easy to update, so if you find better ones, just let us know and we'll add it in.
Coming soon- A  Completion exam for Each Lesson Plan Topic
We Listened! One of the things to come out of a recent survey of our valued clients is that completion exams or assessments were very important to be included in these resources. These are a couple of months away yet, but one of our not so distant future visions for this set of resources is to add a range of assessments to all of our Music Lesson plan modules. These can be useful to tie it all together and mark students for their reports. we're looking at having these finished and will be added to the resources by April 2011.