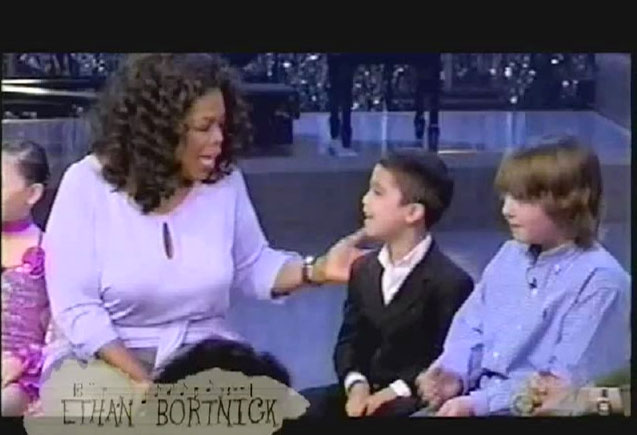 When we're talking child prodigies in music, one that springs to mind is a now twelve year old boy, Ethan Bortnick.
This little boy is amazing having done more in 12 years than most adults would ever hope to achieve. He's a certified Guinness World Record holder with the title of "The Worlds Youngest Solo Musician to Headline his own Tour" and in 2010 he was the youngest performer asked to join the amazing array of talented musicians for the "We are the World 25 for Haiti " where he stood amongst the "greats" in the music industry. He's been interviewed by Oprah and he's probably one of the world's youngest philanthropists, raising record amounts of money (over 30 million dollars) for non-profit charities around the world.
Other than all of this, he appears to be just like any other normal kid. He plays video games, plays games with his brother and his cousins,plays soccer, draws and eats- he just has an exceptional talent for playing the piano.
Apparently he had to plead with his parents (aged 3) to take piano lessons after he got started. He got started by listening by Baby Einstien CD's as a toddler and playing the tunes by ear on a little toy keyboard.
When asked what some of his favourite parts of his concerts are, he describes the "Mozart" section where someone from the audience plays him a ring tone, he listens to it and on the spot composes an entire composition based around the ring tone.
What can we learn?
When asked by an NBC interviewer what his plans are for next year and after complimenting him on being "the best piano player she's ever heard", this little 9 year old boy simply says:
"But, But…I'm not (the best player)…because we have be humble"
Amazing life lessons learned from a child!
Anyway, make sure you check out these videos of Ethan Bortnick below and let us know your single best life lesson from a child in your life. Also feel free to share video links of other amazing child talents using the comments box below.