Discover how to make the teaching of composition in elementary school easy and fun for you and your students
Get over 70 prepared lessons for music composition for all levels from K-6
Do you need to teach composition in Elementary School Music?
If you follow a national or state based curriculum such as the common core (USA) the answer is likely to be YES!
Besides the requirement to teach composition in curriculum, music teachers also teach composition because it is a fantastic way to teach all music concepts. Students discover music with their own creativity, and in today's world this is an amazing way to teach!
Discover how to make the teaching of composition in primary school easy and fun for you and your students
Get over 70 prepared lessons for music composition for all levels from K-6
Do you need to teach composition in Primary School Music?
If you follow the Australian national curriculum or one of the state based equivalents the answer is likely to be YES!
Besides the requirement to teach composition in curriculum, music teachers also teach composition because it is a fantastic way to teach all music concepts. Students discover music with their own creativity, and in today's world this is an amazing way to teach!
Makes the teaching of composition easy for you, and fun for your students

Teaching composition should be as simple as teaching painting or drawing for a young class. So why isn't it? We need to put in place ideas and methods that make the teaching of composition simple so that students are empowered to create new ideas on their own.
Completely covers the composition component of the Common Core (USA) and similar curricula around the world.
If you're familiar with the Common core, you'll know that standards 1, 2 and 3 relate to composition, requiring students to "generate and conceptualise artistic work" and then develop and present that work. We've explored the detailed standards for each grade, and explored how best to meet the standards in a way that works for students.
A 'flipped classroom' model enables you to focus on what you do best
If you're teaching classroom music, you've got so much to do already to prepare lessons, organise instruments for your children, organise choirs and bands and prepare them for performances! The 'flipped classroom' nature of this program means that you can add these lessons to your teaching with very little preparation.
Seven online training sessions, which you can watch live if you wish, or catch up on whenever it is convenient to you.
This will be presented in seven weekly training sessions – one focussing on each grade level from Kindergarten through to Grade six. Each week we will present the student videos and explain all the methodology behind them, and talk through how the activity relates to the curriculum.
Seventy prepared lesson plans for Grades K-6 with classroom videos and assignment pages
Each week will focus on one grade level, and you'll get a program of ten lessons for the grade, which are all uniquely created for the age group. Each lesson consists of a short classroom video, which you can choose to show the students or not, and any interactive digital resources or worksheets that are needed to complete the activity. There is also a printed lesson plan which outlines the activity for the day.
Session #4
In Grade 6 our focus is on technology with most of the lessons using individual computers or tablet devices.
We have structured these lessons so that no matter what computers and software you have available.. you can still use these lessons! Grade six students will love creating their own movie soundtrack for a short film, plus creating their own rap beats and spoken chants.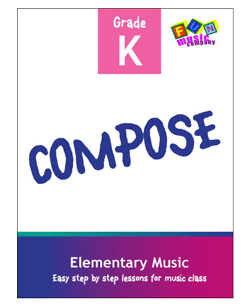 Session #5
In this session we come right back to the beginning,.. for the tiny children who are just starting school.
Here we begin with the first lessons children start with.. starting with the musical elements of sound,  silence, dynamics and pitch and we get them making musical soundscapes to a story using instruments or appropriate technology.
Discounts apply for members of the Fun Music Company Curriculum Program
If you are already a member of the full Fun Music Company curriculum program you are entitled to  have access to this composition masterclass at a discount of 50%. This recognises that you already have access to these composition lessons in your curriculum program, but you also are getting a lot more additional training in this masterclass series. If you are a member of the curriculum program you will be emailed a special coupon code to take advantage of this opportunity. If you are a member and you have not yet received your coupon code please contact our helpdesk prior to ordering and we will arrange it for you
10-14 hours of professional development
As with all our trainings, we will provide a certificate stating the total hours of online training undertaken, upon the completion of a feedback form. As these are live trainings created at the time we cannot give exact hours, but we expect each session to run for 1-2 hours, so total training time we expect to be between 10-14 hours.
Please note: This is not accredited by any state or national authority,  so please check with your employer if this type of certificate will be acceptable for your professional development purposes.
Plus you'll get three amazing bonus products to support your teaching …
Get instant download access to these products immediately after your registration.
Primary Percussion
This package of ideas and arrangements for classroom percussion instruments will give an excellent kick start to your students learning.
Valued at $29.95
Boomwhacker Beatz
Songs and games edition
If you have boomwhacker pitched percussion tubes available, having access to this program in addition to our composition material will really enhance your children's learning.
Valued at $39.95
GarageBand training 2017
If you have access to apple devices, then having access to this GarageBand training in addition to our composition lessons will be invaluable.
Valued at $99
Want to watch a sample lesson?
The sample below is just one of the seventy student videos and lessons that are included in this program. You will have twelve months access to all student videos and associated materials via a special members area website you can access in the classroom.
Sample Lesson – Grade 6
Click here to launch a sample lesson from Grade 6. This lesson is half-way through the unit, where the students are just beginning a project to create film score music.