Interactive Whiteboards for Music Teaching – What the current situation is.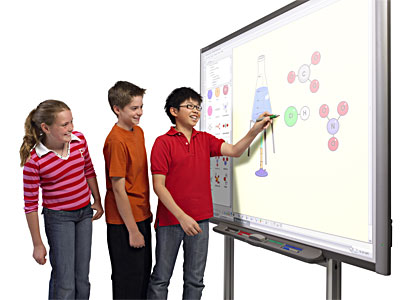 Do you teach with an interactive whiteboard?
Do you enjoy using an interactive whiteboard in the music classroom?
What would be your ideal method of use on an interactive whiteboard in the music classroom?

At The Fun Music Company, we are curious about all these questions and more!
For the past five years, we've been busy making resources that music teachers can go an use to help save tonnes of time and lesson preparation, and now we're ready to extend these products and help teachers in starting to use them on an interactive whiteboard.
Throughout last month we ran a quick three question survey on using the interactive whiteboard in the music classroom. We had over 350 respondents from across the world and we found a wealth of interesting information about what and how these whiteboards are currently being used in the music classroom.
Here' s what we found out
Over half of the survey participants (57%) have access to an interactive whiteboard in their school or classroom, and 43% have no access at all. Given that music is often the LAST of the subject areas to get access to this technology this is perhaps higher than we expected it to be. We know how tough the funding situations are for schools!
Of those who have access, 35% have access full time, and use it for all their lessons.
We've been hearing from teachers for some time now that schools have being making huge efforts in getting them installed, and the teachers are under pressure to make sure that they are used effectively.
This seems to show that the majority (62%) prefer to navigate to websites or use normal computer applications, rather than specific whiteboard software. This is possibly due to the lack of resources available in the specific software? We're not sure about that.  Anyway, this majority is not overwhelming, and certainly some of the comments and informal conversations we have had with teachers suggests that they would much rather an offline program that they knew exactly what was going to happen in, rather than relying on sometimes patchy internet access to run their class presentations.
The most popular brand of the"whiteboard specific" software used was clearly Smart Notebook, with 57% of respondents preferring it to the competition. This is perhaps because Smartboard seems to have the dominant market share?
The other major Brand (promethian) has its proprietory software called ActiveInspire at 20%, and EasyTeach is also popular at 24% usage.
The main whiteboard competitors seem to currently be between SmartBoard and Promethian and the reason seems to be because it's easier to get programs that work well on them. Both of these brands come with a market place website, so once you've installed your whiteboard with the appropriate software compatible with your brand of whiteboard in set up, programs specific to your subject area can be downloaded easily and quickly. I know this only touches the surface of this subject, so keep an eye out for future articles, because we'll go more in depth about each brand of whiteboard and what they do, just in case you are ever left with the decision of what to get.
Some teachers would like to use interactive whiteboards to help demonstrate instrumental playing to their students
Throughout the survey, many teachers said they would like a demonstration instrument so they could show their classes how to play as a group and could get their students to have a go.
Music Teachers would like to use worksheets on an interactive whiteboard so the whole class can participate together
This makes so much sense! Throughout the survey, lots of Music Teachers commented that they would like to have access to fun worksheets and the answers so they could work through it together as a class. This is something we're currently working on now with our resources thanks to this feedback. Over this next year, all our existing resources will be converted into whiteboard compatible materials.
At the Fun Music Company we intend to really know this area in depth, so that we can best help music teachers make their music lessons fun and interactive with whatever technology they have available.
To this end, next week a Smartboard will be delivered to our office. Within two months we will have our first dedicated whiteboard resources released, and by the end of this year we are going to have some amazing programs available….. so watch this space!
These initial survey findings are only the beginning. Let's use this as a networking platform for an ongoing discussion on interactive whiteboards. Please tell us more about you and your own experiences with interactive whiteboards. Do you use an interactive whiteboard in your music classroom? What are your favourite programs? If you could invent an "ultimate" interactive whiteboard solution for music classes, what would it do?