Interactive Whiteboards: Using them in the Music Classroom.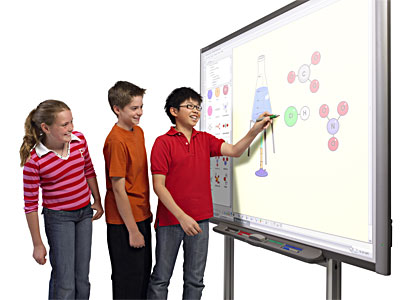 Gone are the days where music teachers need to be spending countless hours putting lines up on boards or cleaning their existing lines on the board… Yipee!
With the invention of the interactive whiteboard it will save many hours of boring line drawing saving valuable time with a better look afterwards. The question is – What else can we do with this new technology?
Interactive whiteboards seems to be the "buzz " word amongst teachers at the moment. I view them as fantastic tools which get students interacting with the content and becoming actively involved.
I would love to get some feedback from teachers out there currently using interactive whiteboards and how you use them.
Do you play games on them? Do you use fact sheets? Do you link to videos? and what published resources are you currently using both at the primary level and the senior level ?
Has anyone been using the Fun Music Co resources on an interactive whiteboard? I would love to hear your stories and feedback.
Click here for  an article demonstrating how an experienced teacher in Holland uses interactive whiteboards for general primary classes:
Here are some great links to some interactive music teaching materials:
San Francisco Symphony Music Fun: This website has a few games on it and listening examples of instruments.
Education Network Australia: By clicking this link, you will be able to find free resources for Instruments of the Orchestra Games, Musical House Games and a virtual keyboard.
Printable Music Lesson Plans: Instruments of the Orchestra – this is a term module of lesson plans, fun sheets, fact sheets and an entire power point presentation which is perfect for interactive whiteboard use.