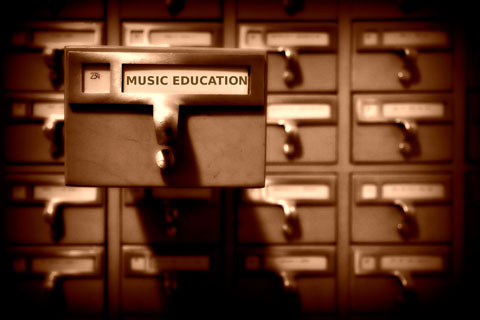 There are some disturbing traits emerging across the world when it comes to music education. Budget and curriculum cuts and in some cases elimination of music programs are common conversation between our music education friends based in the US, Australia and UK. This has prompted us to look at some research and in that we have found some shocking music education statistics:
In the US back in 2007, Dr John Mahlmann, the former Executive Director of MENC, stated in a press release that "student access to music education has dropped about 20 percent in recent years, thanks in large part to the constraints of the No Child Left Behind Act."
In Australia, nearly three-quarters of secondary schools and over one-third of primary schools have no classroom music teaching. Yet, as I understand it, music teaching is compulsory in all Australian primary schools.
In the UK too, there have been serious problems identified with the classroom teaching of music. Ofsted, the organisation tasked with the regular inspection of schools, recently reviewed the music teaching in 180 schools, split equally between primary and secondary. Nearly one-in-four of the schools were said to be "inadequate" in their teaching of music!!!
Constant Crisis
So, is this a time of crisis in the music teaching profession? A detailed examination of past research would lead you to believe that there has always been a bit of a crisis: "a nation-wide poverty of music teaching"; "a rather dismal picture"; "in a state of turmoil"; and 'music education was "the biggest loser"'- and these are just a few fragments from reports over the last forty years or so, just from Australian music teaching reports alone. The historical picture isn't a lot brighter from UK or US perspective either.
Looking for the Light!
However, the news isn't all bad. It's possible that there has been a real shift in the understanding of music education. Over the last few years the powers-that-be have eventually started to realise the value of music teaching across the whole range of student outcomes and there is strong evidence that music helps both academically and socially.
Towards the end of the Australian National Review of School Music Education is a section titled Music for Learning for Life. This highlights a programme which had music teachers and musicians at its core. Using mentoring and team-based teaching the programme worked with students at two schools in and around Darwin, Australia. Its aim was to look at:
• student attendance
• participation in classroom-based learning opportunities
• oracy and literacy levels for Standard Australian English
• numeracy levels
• arts knowledge and skills development
The results were impressive. The students involved became: considerably more engaged in the school, their reading improved, They became more confident about learning, their maths got better too; one student improved their maths age by more than four years, in just nine months!
And another critical finding –the use of contemporary songs had a powerful effect.
In a 2009 US research paper, Staying in School- Arts Education and New York City Graduation Rates states; " In several national studies over the past decade, students at risk of dropping out cite participation in the arts as their reason for staying in school. " Another report based in Florida in 1990 also showed that music, art, and drama classes positively influenced students' decisions to not drop out of school.
In the UK, a report, The Importance of Music: A National Plan for Music Education (2011) had a whole annex devoted to the broader benefits of music education. It highlighted the link with improved literacy, maths, language and creativity.
In a another non-government report entitled The case for Music Education put together by the Lang Lang foundation it states "In addition to strong evidence that music education is highly correlated with achievement in other academic areas and in later financial success, scientific studies also link music education to brain development. The experience of music educators and music students across the globe suggests that music also provides substantial benefits to the broader society at large and to nurturing the whole child. Music may be the magic key that keeps students from dropping out of school, inspires them to excel in other parts of their life, and creates a platform for global citizenship. Music education should be considered a critical component of every child's education"
It seems to me, that it's this dawning realisation that has led to statements like,"Music education is valuable and essential for all Australian school students", to appear in The Australian National Review. And similarly, in the UK version, "Children from all backgrounds and every part of England should have the opportunity to learn a musical instrument; to make music with others; to learn to sing; and to have the opportunity to progress to the next level of excellence if they wish to."
What I find really amazing is that this upgrading of the priority of music education barely mentions fact that this is also a multi-billion dollar global industry. In 2005, the top twenty countries did over $12 billion in music sales. And the latest figures that I can find for the live music business adds another $11 billion to that, but from just five countries.
Music Paradox
It doesn't seem to make sense that music budgets and curriculum are cut in schools, however, the paradox is that they often are the first to go!
Standardized testing in both Australia and US means there is increased pressure on teachers in the areas of maths and english and less emphasis is placed on testing the arts resulting in less music funding and teaching time.
However, the acceptance, in official black and white, of the critical importance of music teaching as part of a balanced education is now beyond question.
Looking Ahead
Next year we're excited to announce that we're ready to make more resources even more accessible. At the Fun Music Company, we'll be putting in a huge focus into delivering a video information email complete with free resources for teachers on our mailing list to enjoy with their classes. Every week (so you'll receive 52 videos over the year! ) there will be a short 5 minute video explaining a music related activity and then all you need to do is download or print the resources to use immediately.
This all came about because throughout 2012 we've been constantly communicating with teachers all over the world – people just like you – and finding out what it is they need most. Loads of teachers have said that the single most valuable contribution they could have in their day to day lives is a short video email with a simple quick idea and resources they can use with their classes straight away.
So now, regardless of the level of funding you may have, where you live and any curriculum restraints or requirements that may be placed upon you, you'll be able to get free access to at least one new quality idea each and every week simply by continuing to be a member of this newsletter mailing list- giving us all something to sing about!
So go ahead and let us know what you think of this new plan for 2013. If you have any idea's you like to share with other teachers, just let us know by using the comments box on the Music Teachers Blog. If the idea is something that can benefit others, we'll credit you with the idea and then we'll get to work on making a video and resource kit to go along with it.
Sources:
What Makes Good Music Programs in Schools? A Study of School Music Across Australia and a Comparison
With England and Russia, Irina E. Petrova , The University of New South Wales
http://unsworks.unsw.edu.au/fapi/datastream/unsworks:10525/SOURCE02
National Review of School Music Education, April 2005
http://www.australiacouncil.gov.au/__data/assets/pdf_file/0017/32228/school_music_ed_review.pdf
http://www.ofsted.gov.uk/resources/music-schools-wider-still-and-wider
Music Teacher Education in England, Graham F Welch, Institute of Education, London
http://www.imerc.org/papers/time/time_feb2010.pdf
What Makes Good Music Programs in Schools? A Study of School Music Across Australia and a Comparison
With England and Russia, Irina E. Petrova , The University of New South Wales
http://unsworks.unsw.edu.au/fapi/datastream/unsworks:10525/SOURCE02
What Makes Good Music Programs in Schools? A Study of School Music Across Australia and a Comparison
With England and Russia, Irina E. Petrova , The University of New South Wales
http://unsworks.unsw.edu.au/fapi/datastream/unsworks:10525/SOURCE02
National Review of School Music Education, April 2005
http://www.australiacouncil.gov.au/__data/assets/pdf_file/0017/32228/school_music_ed_review.pdf
The Importance of Music – A National Plan for Music Education, Department for Education
https://www.education.gov.uk/publications/standard/AllPublications/Page1/DFE-00086-2011
http://en.wikipedia.org/wiki/Music_industry
http://livemusicexchange.org/tag/global-live-music-industry/
Music Teacher Education in England, Graham F Welch, Institute of Education, London
http://www.imerc.org/papers/time/time_feb2010.pdf
The Case For Music Education, The Lang Lang Foundation.
http://www.langlangfoundation.org/sites/default/files/content/documents/CaseforMusicEducation.pdf
American Music Education: A struggle for time and Curriculum
http://www.redorbit.com/news/education/768554/american_music_education_a_struggle_for_time_and_curriculum/
Staying In School: Arts Education and New York City Graduation Rates, The centre for Arts Education, 2009
http://www.cae-nyc.org/sites/default/files/docs/CAE_Arts_and_Graduation_Report.pdf
Press Release – New Harris Poll Links Music Education to Advanced Studies and Higher Incomes
http://musiced.nafme.org/news/press-releases/press-release-new-harris-poll-links-music-education-to-advanced-studies-and-higher-incomes/