This month, ever since our latest launch, we've been in "update mode" to include new features and benefits in some of our other resources here at the Fun Music Company.
The Junior Musicianship System, which is a theory system designed for younger students aged 4-7 has just had 30 new worksheets added to it's library. We've now been able to include more bass clef worksheets to include low G up to B below middle C and have added a keyboard connection worksheet for the low bass clef notes(G,A and B).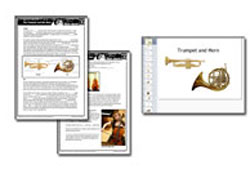 The Instruments Of The Orchestra lesson plan materials which are designed for students in upper primary, middle school and junior high school levels now have 'fill in the blank" fact sheets and a brand new power point presentation. It has been quite an extensive change to these materials as before it didn't include any fill in the gap style worksheets at all. We introduced this style of fact sheet when we launched our Great Composer series and found that more teachers started using this style of fact sheet to encourage active listening as information is presented in class. The brand new power point presentation now better reflects the information and style of these new fact sheets. Generally the new presentation should make it easier for teachers to present information to their classes, while keeping the students thinking.
We've also added an entire collection of Alto Clef cards to our Ultimate Flashcard Set. This was in response to a request from a parent who purchased the set to help her daughter who was learning Viola. If there's ever a flashcard you need, you simply request it and we'll add it in!
If you'd like to get some free samples just click here to download some music theory worksheets.
And don't forget to let me know what you think of these latest revisions. If you have any other ideas, just leave a comment in the box below or contact us directly through our customer service facility.