Do you need to teach Music Theory?
Here is how to make it EASY for you and FUN for your students
Sample Resources
Printable Materials

| | |
| --- | --- |
| | Worksheet – US Language Style |

Interactive Whiteboard Materials

Interactive Whiteboard File for SMART boards
US Language Style

Interactive Whiteboard File for Promethean and other whiteboards
US Language Style

Don't know what to do with these files?
click here for information
Special Offer!
Four Level Interactive Theory Package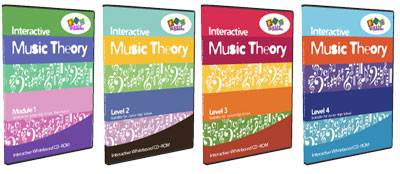 Normally $299
This week ONLY $199
Available until Friday 19th Feb 2016
Integrates the Interactive Whiteboard with paper based learning
This program includes BOTH the whiteboard resource and the printable workbook, and they are designed to be used together.
Lesson Planning is already done!
Every lesson is laid out with 9 or 10 preplanned activities, in a logical order.
Students won't get bored as the activities keep coming with just enough variety and enough repetition to make sure they have mastered the concepts.
Aural Training is included.
In every single lesson there is an aural quiz, which relates to the theory work the students have been doing.
If they have been doing work on rhythm and note values, then there will be a rhythm identification exercise, or if they have been learning about intervals, there will be an interval recognition example.
They are designed so the whole class do the activity, then find out the answers via the erase-to-reveal feature on the whiteboard.
Games to reinforce their learning
In every lesson there is also a fun game for the class to participate in.
This is not a computer game, but an interactive experience for the whole class
For example in the Speed Quiz (as pictured) students take turns to come to the board, and have to quickly press their buzzer if they can identify the card when it is flipped.
Your students will be lining up to come to music class with these games a part of your lessons!
Overview of the syllabus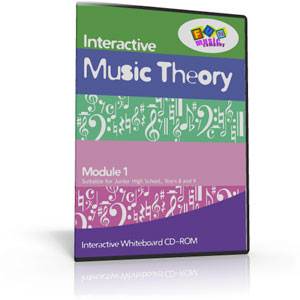 Level One
Fundamental Notes and Rests
Learning Pitch Notation
Major Keys (C,F and G)
Introduction to Major Scales
Introduction to Rhythm Notation
Level Two
Larger range of notes in treble and bass clefs
Major and Minor Keys
Introduction to the Cycle of 5ths
Major, Harmonic and Natural Minor Scales
Simple and Compound Time Signatures
Level Three
Continuation of scales and general theory
Concepts of enharmonics, diatonic/chromatic and more
The circle of 5ths and all major and minor keys
An introduction to classical harmony
An introduction to modern piano-style harmony and adding chords to a melody using primary chords.
Level Four

Advanced concepts in keys and scales
Introduction to modal scales
Chords, inversions and seventh chords
Classical harmony
Modern harmony, harmonizing using primary and secondary triads and seventh chords.
Frequently Asked Questions
I already own Printable Music Theory Books, Level One. Is this program the same?
The printable content is the same. However, the interactive content is made to match it, and it contains a lot more than is in the printable workbook. It is designed to go hand-in-hand with the printable workbook from Printable Music Theory Books, which is why it is included with the package purchase of $99.
If you already own printable music theory books, level one you can purchase it for a discount if you contact us for a discount code.
How many lessons are included/how long will this program take?
We structured this into 14 lessons, and each lesson should take a full 45-60 minute long music theory class. However, there is no reason to suggest that it has to take exactly that time: your students can go through it as quickly or slowly as you need to. You can simply resume where you left off if they take longer than a session to get through one of the pre-planned lessons.
Do I need an interactive whiteboard to use this program?
For best results you should have an interactive whiteboard, however it is possible to use a computer and projector, or just the whiteboard program on a computer screen if you'd like to.
Do I need additional software to use this program?
Yes, you need either SMART Notebook (for SMARTBoards) or ActiveInspire (for Promethean or other whiteboards). Instructions are included for downloading ActiveInspire personal edition which is free at this time, but please download this and try it with one of our sample files before you purchase this program.
Are answers included?
Yes. all answers are included on the whiteboard, using the 'erase to reveal' feature. You therefore work out the answers together with the students using the whiteboard pens, then when you erase them you'll find the official answer underneath. Fully answered printable workbooks are also available if you would prefer to use them.
What if it doesn't meet my expectations?
Like all of our products, just contact us for a no-questions-asked refund if you find that this program isn't suitable for you. We only consider the sale complete when you have the product working for you in your school.
Special Offer!
Four Level Interactive Theory Package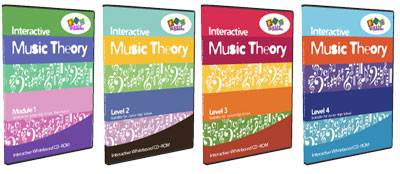 Normally $299
This week ONLY $199
Available until Friday 19th Feb 2016