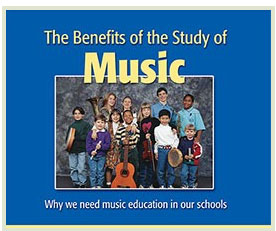 Core education of the benefits of music in our schools and to the wider community is such an integral part of any music teacher's role.
Usually, the wider community are not even aware of the impact that any music program can have on our children and schools- so it's always important to have a swag of musical advocacy quotes at the ready to help educate parents and other members of the community at any time.
Recently I stumbled across a fantastic music advocacy booklet which is free to print and download as a resource thanks to Menc: The National Association for Music Education. It's a perfect resource to leave in any school waiting area or classroom.
Here are just a few of the quotes included in the booklet:
"Secondary students who participated in band orchestra reported the lowest lifetime and current use of all substances (alcohol, tobacco, illicit drugs)."
— Texas Commission on Drug and Alcohol Abuse Report.
Reported in Houston Chronicle, January 1998
" Schools with music programs have significantly higher graduation rates than do those without programs (90.2% as compared to 72.9%). In addition, those that rate their programs as "excellent" or "very good" have an even higher graduation rate (90.9%). Schools that have music programs have significantly higher attendance rates than do those without programs (93.3% as compared to 84.9%)."
-Harris Interactive poll of high school principals, 2006

"Students in high-quality school music programs score higher on standardized tests compared to students in schools with deficient music education programs, regardless of the socioeconomic level of the school or school district. Students in top-quality music programs scored 22% better in English and 20% better in math than students in deficient music programs. Students at schools with excellent music programs had higher English and math test scores across the country than students in schools with low-quality music
programs. Students in all regions with lower-quality instrumental programs scored higher in English and math than students who had no music at all."
Christopher M. Johnson and Jenny E. Memmott, Journal of Research in Music Education, 2006

Click here to download the Pdf document: The benefits of music, for yourself.