Attention: Elementary Music Teachers
Make your life easy with this full package of teaching resources for Elementary or Primary School
Grades K-2
Introduction to Music
Your K-2 students will love these easy to use, fun filled lessons for interactive whiteboard. There are loads of games and fun activities to do using whatever instruments you have available in the classroom.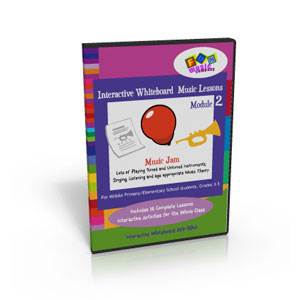 Grades 3-5
Music Jam
This program is a complete curriculum for middle elementary/primary school featuring lots of singing, playing, composition, aural training and musicianship games. Your students will love the variety in the lessons, plus the consistency of doing similar activities until completion. Includes listening work every week and a worksheet.
Grades 6-7
Play Up!
This program is a unique collection of fun activities and games especially designed for this upper primary or elementary "tween" age group. This group of students is too old for old-fashioned untuned percussion playing or recorders or xylophones, so we need to think differently about them. Includes "beatboxing", "Bucket Beatz" and more…..
Grades K-6
Boomwhacker Beatz
Boomwhackers are pitched percussion tubes. They are incredibly popular in primary or elementary music classrooms, as they are inexpensive, not too loud, and can make a nice sound without much technical skill.
But what can you do with them?
This program provides a whole curriculum full of simple pieces, composition activities and games that your students will love!
Plus you get the following FREE bonus items:
Junior Musicianship System
Over 200 printable worksheets designed to make music learning more effective and enjoyable for young children. (Ideal for 4-7 year olds)
Printable Music Games
20 Printable Games with hundreds of variations. Ideal for 'stations' lessons in an elementary music classroom. Games day will be loads of fun!
These products purchased individually would cost
$496.55
Package Price is just $297.00
includes instant download & delivery on CD-ROM