Looking for ideas to use in your Keyboard lab or keyboard lessons?
This program is NOT a complete program of instruction for keyboard.. there are many excellent resources for that.
What this does contain is a collection of fun little tunes that just about any general music class can enjoy in a general music classroom.
Benefits of this program
It is suitable for students of a wide range of abilities
It doesn't require expensive keyboards… just about any keyboard instrument will do!
It provides extension options for more advanced students through the improvisation
Encourages creativity and composition
14 Keyboard Rap Printslides showing the sheet music and keyboard range for the activity.
These all have the same format. An easy 'riff' featuring just a few notes, which is played four times, and then an 8 bar improvisation on a pre-defined set of notes.
14 Keyboard Rap Tracks recorded at normal speed, and then slower for practice.
Have a listen to a sample: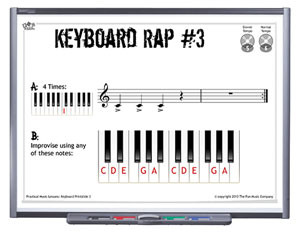 Powerpoint or Keynote version of the printslides, so you can project them onto the classroom whiteboard
A printable student workbook that you can use to give the students for practice at home