What is the Fun Music Company Curriculum?
The Fun Music Company curriculum is a complete music program for Primary or Elementary general music classes.
It is specifically designed to meet curriculum requirements, while at the same time making lessons engaging and fun for children.
It does this by structuring activities around the four areas commonly found in every music curriculum in the world: AURAL, SING & PLAY, COMPOSE and CONNECT.
Benefits of the Fun Music Company Curriculum

Structured to make it easy to cover your curriculum requirements with the minimum of extra stress and preparation time.

Includes step-by-step videos for you to play in the classroom, so even if you aren't experienced teaching an activity all you need to do is play the video and follow the instructions.

Has engaging and fun songs to sing and play, plus a complete composition program which will inspire and motivate children to make music class the best part of their day!

Easy to use with no software to install. All you need is a projector or video screen attached to a computer with internet access. Just login to the members' area, select the module you want to work with and away you go!
The very first requirement of the Australian curriculum for Grade 6 is: "Explore dynamics and expression, using aural skills to identify and perform rhythm and pitch patterns", and there are similar requirements in every major curriculum in the world.
In Grade 6 Aural we learn all about the elements of music using the ears, through exercises and games.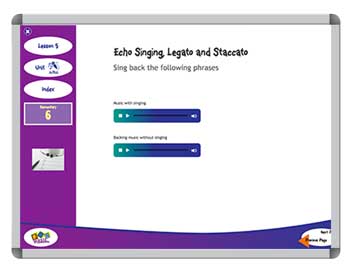 The Fun Music Company SING & PLAY unit for Grade 6 contains four fun and engaging folk songs, very carefully selected and arranged by classroom music experts.
In this grade children will have great fun with nice easy percussion parts in Li'l Liza Jane, they will enjoy singing in parts in the sea shanty Bound for South Australia, they will enjoy the interesting folk song Sesere Eeye and have great fun with the percussion in the classic Auld Lang Syne.
There are videos showing each step of the process, from the introduction to the song through to playing as a classroom ensemble.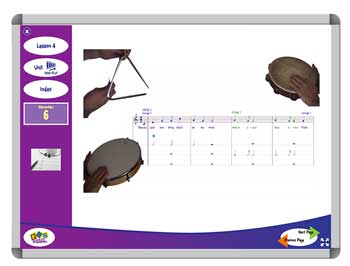 In the COMPOSE unit of Grade 6 children will work extensively with technology to record and notate their own compositions. We use simple and free software solutions, suitable to whatever devices you have available for your students to use.
Students begin with improvisation, then learn to record and notate their improvisation patterns using notation and technology.

In the CONNECT unit of Grade 6 students will listen to a wide variety of music from John Williams to Michael Jackson.
Through listening to the music in this unit children will identify purpose and meaning in music and discover how the elements of music are used to convey these meanings.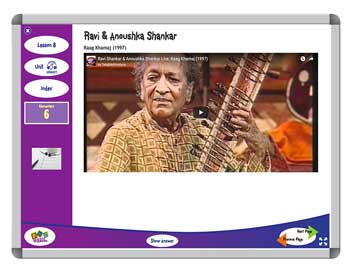 Package to save!
You can purchase a membership to individual grades, however did you know that you can get access to the complete Fun Music Company Curriculum program for all grades for less than $5 per student?
The K-6 Fun Music Company curriculum is now available with per student quoted pricing, allowing for all schools to have access to the complete program.