What is the Fun Music Company Curriculum?
The Fun Music Company curriculum is a complete music program for Primary or Elementary general music classes.
It is specifically designed to meet curriculum requirements, while at the same time making lessons engaging and fun for children.
It does this by structuring activities around the four areas commonly found in every music curriculum in the world: AURAL, SING & PLAY, COMPOSE and CONNECT.
Benefits of the Fun Music Company Curriculum

Structured to make it easy to cover your curriculum requirements with the minimum of extra stress and preparation time.

Includes step-by-step videos for you to play in the classroom, so even if you aren't experienced teaching an activity all you need to do is play the video and follow the instructions.

Has engaging and fun songs to sing and play, plus a complete composition program which will inspire and motivate children to make music class the best part of their day!

Easy to use with no software to install. All you need is a projector or video screen attached to a computer with internet access. Just login to the members' area, select the module you want to work with and away you go!
Students will continue their development in aural training in this program, with simple echo clapping and echo singing activities.
The students build on their experience of the elements of music through these activities.

The Fun Music Company SING & PLAY unit for this grade contains four fun folk songs, chosen especially for this age group. These songs are selected to meet the needs of the curriculum, while also being enjoyable and engaging for children.
Each piece has both singing and playing elements and is presented over either two or three of our lessons. We begin with the fun song and game Charlie Over the Ocean, then we learn the popular La Cucaracha, before learning the fun African song Funga Alafia and the Israeli folk song Zum Gali Gali.
There are videos showing each step of the process, from the introduction to the song through to playing as a classroom ensemble.

In the COMPOSE unit of this grade children will continue with manipulating the elements of music and will work on creating music in order to express an emotion or tell a story.
We use a mixture of lessons using technology on the screen and lessons creating music with real instruments.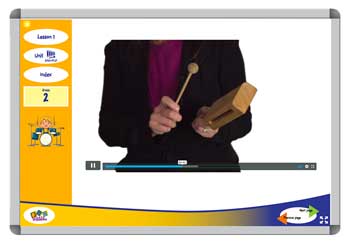 In the CONNECT unit of this grade students will learn to listen with intention to music from a variety of styles.
Students will complete a simple worksheet in each lesson with some factual answers, plus a section where they will be asked to write some words in response to the music they have listened to.
Package to save!
You can purchase a membership to individual grades, however did you know that you can get access to the complete Fun Music Company Curriculum program for all grades for less than $5 per student?
The K-6 Fun Music Company curriculum is now available with per student quoted pricing, allowing for all schools to have access to the complete program.