Teaching Music History?
How do you inspire students in your Music History Lesson Plans about Great Composers such as JS Bach, Mozart, Vivaldi and Tchaikovsky?
Simple… Start with the Fun Bits!
Lesson 1
Johann Sebastian Bach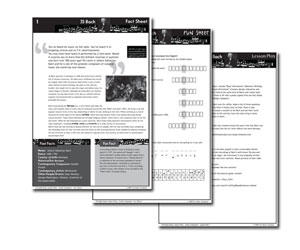 JS Bach starts our journey into the great composers. Students can design a facebook profile for Bach, and explore different interpretations of his music, from the original Organ and Harpsichord versions through to rock renditions.

Lesson 2
George Frederick Handel

In this lesson students will learn about the composer who moved from Germany to Italy because it was too boring, then became very popular in London. In this lesson they can explore the differences between the Harpsichord and the piano, as well as listening and creating a news report about a performance of "the messiah"
Lesson 3
Antonio Vivaldi

In this lesson students will think about living in Venice in Vivaldi's time: what it would have been like to travel around the city via gondola or boat in its canals. The'll also learn about what it would have been like for Vivaldi as a priest, working in an orphanage, composing music and teaching violin.
Lesson 4
Joseph Haydn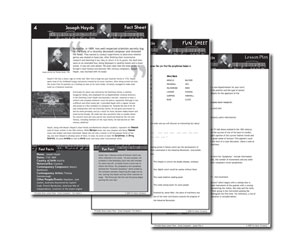 In this lesson students will discover what it was like to work as a professional musician in the 18th century, as they pretend to be Prince Esterhazy and have to write a job ad for a new musical director. Students can discuss what it would have been like to work in the one job as a composer for 30 years, and then what it would have been like to have his music released to a wider public at the end of his tenure.

Lesson 5
Wolfgang Amadeus Mozart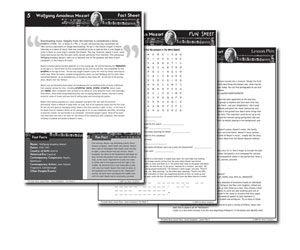 In this lesson students will imagine that they are conducting a guided tour of the Mozart Museum in Austria, and that they have to present a talk about Mozart and his life. They can also explore mozart's variations on "twinkle twinkle little star" as a simple analysis exercise.
Lesson 6
Ludwig Van Beethoven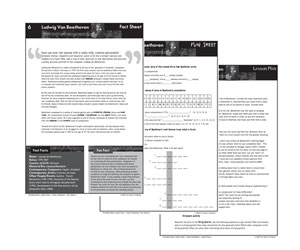 This lesson gives students the opportunity to explore what it would have been like to be deaf and compose such beautiful music. Students can explore feeling vibrations in instruments, as well as viewing videos and researching others who have conquered disabilities in their careers.
Lesson 7
Frederic Chopin

In this lesson students will discuss "The poet of the piano" and can write a poem to describe chopin and his music, or a speech which could have been delivered at his funeral. There is also opportunity in this lesson for students to discuss and compare the Romantic and Classical styles of music
Lesson 8
Richard Wagner

This lesson gives students in high school the opportunity for a great discussion. Wagner was excessively nationalistic, almost to the point of being racist and hostile towards Jewish people. Wagner was the personal hero of Adolph Hitler, and his music was played on loud speakers as thousands of jews were led to the gas chambers. How should this affect our appreciation of Wagner's music? Should famous pieces such as Ride of the Valkyries and Lohegrin: Bridal Chorus still be so popular today? Should we not perform them infront of Jewish people?
Lesson 9
Pyotr Ilyich Tchaikovsky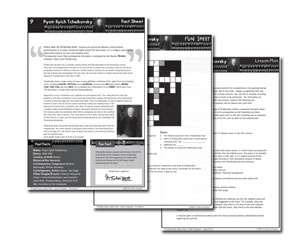 In this lesson students will design a programme for one of Tchaikovsky's concerts, plus explore the impact of his relationship with the wealthy Nadezha von Meck. Tchaikovsky's music is particularly suitable as students can explore program music by listening to the 1812 Overture and exploring its historical background.
Lesson 10
Claude Debussy

This lesson gives students the chance to explore expressionism and links to visual art and historical events of the time. Students can discuss the impact that world music had on the music, plus explore the romantic style of this excentric composer.
Lesson 11
Ralph Vaughan Williams

In this lesson students can explore folk music and its place in classical music. What is folk music? Why were folk songs written? Why do we still know folk songs today? Students can also explore the poem "The Lark Ascending" in conjunction with Vaughan Williams' piece.
Save
Lesson 12
Arnold Schoenberg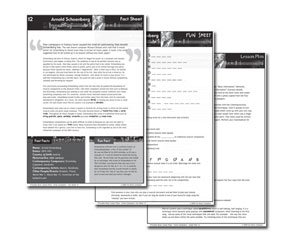 In learning about one of the most controversial composers to ever put a pencil to music paper, students will have a chance to explore 12 tone or serial music and discuss tonality vs atonality. Love him or hate him, the contrast that this composer provides will certainly open students minds to different forms of expression in music.
Lesson 13
Igor Stravinksy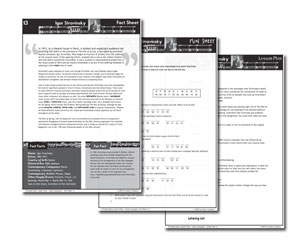 What a scandal! Students will learn about the effect that the premiere of "The Rite of Spring" had on a conservative ballet crowd in Russia. This is one of the defining moments in music history, and gives students a chance to discuss 20th Century classical music and what it means today.
Lesson 14
George Gershwin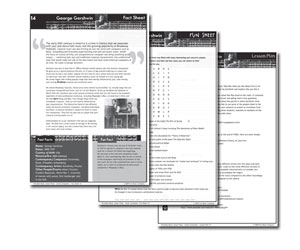 Gershwin's music is an ideal vehicle to discuss links between Classical and Jazz music. This earned Gershwin a unique place in music history as a link between classical, Jazz and broadway music.
Save
Lesson 15
Aaron Copland

The uniquely American composer Aaron Copland finishes off the module. Learning about cowboys and outlaws and what they are doing in a ballet! Plus explore the place that classical music has in modern life: for example in movies and television commercials. Students can even create their own movie or powerpoint presentation to go along with Copland's evocative music.
Choose between full fact sheets and "fill in the blanks" versions
Increase students retention by making the lesson more interactive!
Every fact sheet in the series has two available versions – one with selected important words in highlighted text, and one with selected important words left as an answer blank. In the class you can fill in the answer blanks – helping students to retain the important information as you go through the content as a class.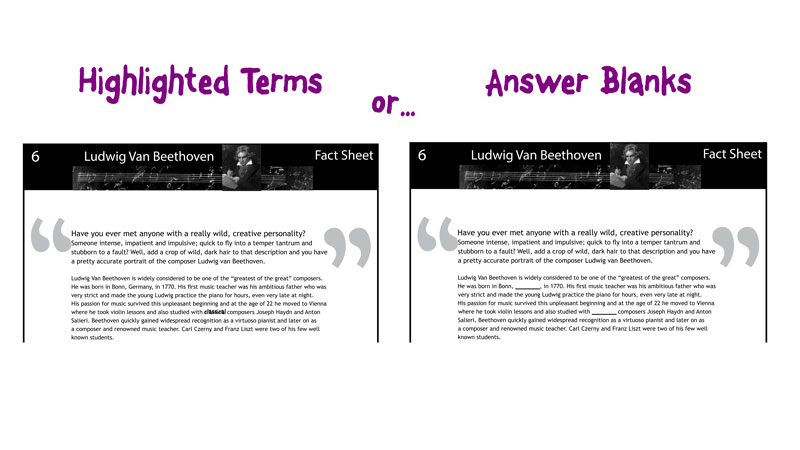 Frequently Asked Questions
Printable Music Lesson Plans Module Two The Great Composers

15 Lessons on selected composers from the Baroque to the 20th Century

Lesson One Johann Sebastian Bach
Lesson Two George Frederick Handel
Lesson Three Antonio Vivaldi
Lesson Four Joseph Haydn
Lesson Five Wolfgang Amadeus Mozart
Lesson Six Ludwig Van Beethoven
Lesson Seven Frederick Chopin
Lesson Eight Richard Wagner
Lesson Nine Pyotr Iiyich Tchaikovsky
Lesson Ten Claude Debussy
Lesson Eleven Ralph Vaughan Williams
Lesson Twelve Arnold Shoenberg
Lesson Thirteen Igor Stravinsky
Lesson Fourteen George Gerswhin
Lesson Fifteen Aaron Copland

$39.95
Bonus Lesson Content
Module Review
Module Glossary
Student Listening Log
Compiled Student Workbook
Teaching Tips
Answer Key
$19.95
Bonus Powerpoint Presentations Prepared & Customizable Presentations for all 15 lessons
$19.95
Bonus Resources Area Helpful links to recordings and other resources
$19.95
Bonus #4 Completion Assessments (3 to choose from)
$19.95
Total Value Included:
$99.80
You Pay just

$49.95