Teaching The History of Rock and Roll?
Here are 15 prepared lessons with everything you need to make this entertaining subject easy for you and save you many hours preparation time.
Printable Music Lesson Plans Module
15 prepared ready-to-use lessons with all materials
Download only $39.95
Delivered on CD Rom $49.90
If you are teaching this important subject in schools, in this resource you'll find everything you need to get started with this subject…. even if you HATE Rock Music!
One of the most difficult parts of teaching this subject is the hours and hours of research that goes into it. You really do have to know everything about these bands, as the students will often know a lot about them, and you need to be "one step ahead." With this module we've already done lots of the research for you, so you can just have a quick read, then walk into the classroom.
This module features fifteen lessons starting with looking at fifties Rock and Roll, with Bill Haley and the Comets, Chuck Berry and Elvis. We've balanced the course so that it doesn't stay on these "old guys" for very long, it pretty quickly moves through and looks at all the different milestones and musical styles that make up Rock and Pop music today.
Teaching this course really gives an overview of Rock Music Styles from the 1950's to today, so it is essential for those who are doing a Rock based curriculum, and also those who are doing a more general course.
Here is the breakdown of the fifteen lessons:
Lesson One
Covering Bill Haley and The Comets, Chuck Berry & Little Richard
Students will love learning about the first Rock and Roll bands – how Bill Haley brought Rock to teenagers through the movie "Blackboard Jungle", and Chuck Berry and his famous "duck walk".
Lesson Two
Students will learn all about the profound influence of Elvis Presley on Rock and Roll
In this lesson students will learn about the meteoric rise of Elvis Presley to prominence in the 1950's, and the reasons why he is regarded as the "King of Rock and Roll."
Lesson Three
Music Lesson Plans about Buddy Holly, Ritchie Valens and The Big Bopper.
Students will learn about one of the most important events in early Rock History – the plane crash that shaped a generation, and later inspired Don McLean's song American Pie.
Lesson Four
Learn about the Beatles and other British bands who dominated the pop music scene in the 1960's
In this lesson students will learn about the phenomenal impact of the Beatles, The Rolling Stones and other bands who were dubbed "The British Invasion."
Lesson Five
Learn about essential soul musicians who influenced Rock and Roll, including Aretha Franklin, James Brown and others.
In this lesson students will learn about the roots of Soul Music, and enjoy fun activities related to the Motown and Stax record labels.
Lesson Six
The Beach Boys, The Mama's and the Papas, Surfaris & The Ventures and others.
Learn about the clean cut Surf Bands of the 1960's and how they dominated the charts with easy listening melodies.
Lesson Seven
Artists who performed at the Woodstock Music Festival and others from the era including Jimi Hendrix, Janis Joplin, Cream and The Who
In this lesson students will learn about this influential music festival in 1969. Just exactly what was so special about this time of love, peace and happiness for the people who were at this event?
Lesson Eight
The Sex Pistols, The Ramones and other bands who led the radical Punk Movement in the 1970s through to today.
In this lesson students will discuss what was behind the punk movement when it emerged in the 70's, and why it still exists today.
Lesson Nine
The Village People, ABBA, and other artists from this memorable era of the 70's and 80's.
in this lesson students will explore exactly why Disco became popular in the 1970's and 80's, and why it lost popularity just as quickly, yet still has a "cult" following even today.
Lesson Ten
Billy Joel, Elton John, Eric Clapton, Janet Jackson, Stevie Nicks. We've tried to cover all as many solo artists as possible in this lesson.
In this lesson students will explore the music of the popular solo artists from the 1970's through to today. Just what makes a solo artist popular? and how did these people become household names?
Lesson 11
This Lesson explores the various Rock styles that continued to emerge in the 1970's and throughout the 1980's until today. Bands such as Led Zeppelin, Deep Purple, KISS and Bon Jovi
'Classic Rock', 'Glam Rock', 'Hard Rock', 'Heavy Metal' and 'Progressive Rock' are all compared and discussed in this lesson
Lesson 12
Pop Artists covered include Michael Jackson, Madonna, Prince, Britney Spears and Miley Cyrus.
In this lesson students will explore what makes a perfect "pop" song, and what defines "pop" music today.
Lesson 13
The Grunge movement of the early 90's featuring Nirvana, Soundgarden and Pearl Jam.
In this lesson students will learn about what made up the "grunge" sound of the early 90's and how it was a rejection of the "glam rock" style that came before it.
Lesson 14
Dance Music – How it has evolved from Disco to the nightclubs of today.
In this lesson students will explore the sub genres of Dance Music today including House, Trance, Drums 'n' Bass, Hi-NRG, Techno and Electro.
Lesson 15
You've heard the song, but do you know the name of the band?
In this fun lesson students will learn about some of the one-off hits to have appeared in Rock music in the last 30-40 years.
Choose between complete Fact Sheets and "Fill in the Blanks" versions
Every lesson contains two fact sheets – one that has all the information, and one where important facts have been left out, for students to complete during the lesson. You can choose whichever of these is most appropriate for your class.
Bonus #1
Extra Lesson Content
This module contains everything needed for 15 fun lessons all about the history of Rock and Roll. You can pick and choose the lessons you want to do, and mix around the order if you wish.
bonus Items include:
Module Review Activities
An extra page of activities that you can use at any time throughout the unit, or to fill in an extra lesson (or two!) at the end!
This annotated Glossary includes all the "Rock Lingo" which has developed over the last 30-40 years. The words found in the Glossary are highlighted in the fact sheets with a special font, so students know they can look out for them.
Answered Versions of all Fun Sheets
An extra page of activities that you can use at any time throughout the unit, or to fill in an extra lesson (or two!) at the end!
Compiled Student Workbook
Ready to print student workbook with all fact sheets, fun sheets, listening logs and the glossary, ready to print out and bind for the entire modules work for the students
Bonus #2
Powerpoint Slides Ready to use
This package also includes prepared powerpoint presentations, ready to load into your projector or digital whiteboard. These match the examples in the "fill in the blanks" factsheets, so students can complete the factsheet as they talk through the lesson material.
Students will love to compete with each other to find the answers to the trivia presented on the board.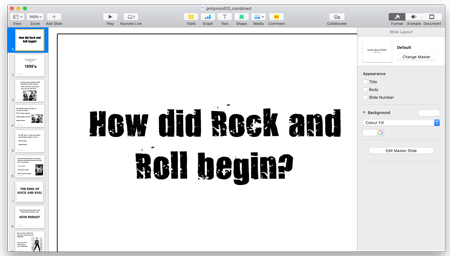 Bonus #3 – Online Resources Area
We have a resources section of the website containing convenient links to purchase suitable recordings using itunes, and links to search for performances and music videos on YouTube.

Brand New! – Just added:
Bonus #4
Completion Assessments
If you're teaching about the history of Rock one thing you will definitely need is a completion assessment, final test or exam.
Because these units are used for many different year levels we have provided a choice of three different assessments:
Level "E"
(Easy)
Suitable for upper elementary/primary students who have been working through this unit
Level "S"
(Standard)
Suitable for junior high school students who have done the entire course as an overview
Level "A"
(Advanced)
Suitable for junior high or high school students who have studied the work in detail
You can of course use more than one of these assessments if appropriate for your students. Like all of our resources, it is up to the teacher how best to implement them in the classroom.
Frequently asked Questions:
How long does each lesson last?
You can take your time over each lesson if you wish – stretching them out over two or three weeks, or you could cover all the material in one school lesson. Its completely up to you, as the materials are designed to be very flexible.
What age group is this for?
This module is designed for Junior high school level (Ages 12-14), but it can easily be used for other age levels. This module is a good general knowledge course for anyone wanting to know about the context and history of Rock and Roll.
How easy is it to print out and prepare?
You can
print out just what you need for each lesson, or you can print out the entire student workbook at the start of the unit.
How much is it?
Printable Music Lesson Plans Modules are $39.95 per module. This includes all 15 lessons, all the printable bonuses and powerpoint presentations.
What are the terms of the printing license?
You have the right to print out as much as you need for your teaching. The only restriction is that you can't re-sell or share the license with anyone else. It's just common sense!
What if my students don't like it?
If you find you can't use these materials just contact us for a no-questions-asked refund.
Printable Music Lesson Plans Module Three The History of Rock and Roll

15 Lessons covering the essentials of the History of Rock and Roll Music.

Lesson One How Did Rock Begin?
Lesson Two The King of Rock and Roll
Lesson Three The Day the Music Died
Lesson Four The British Invasion
Lesson Five Soul Music
Lesson Six Surf Rock
Lesson Seven The Woodstock Era
Lesson Eight Punk Music
Lesson Nine The Disco Era
Lesson Ten Solo Artists
Lesson Eleven Hard Rockof the 70's and 80's
Lesson Twelve Pop Music
Lesson Thirteen The Grunge Movement
Lesson Fourteen Dance Music Styles
Lesson Fifteen One Hit Wonders

$39.95

Bonus Lesson Content

Module Review
Module Glossary
Compiled Student Workbook
Answer Key

$19.95

Bonus Powerpoint Presentations

Prepared & Customizable Presentations for all 15 lessons

$19.95

Bonus Resources Area

Helpful links to recordings and other resources

Priceless!

Bonus Completion Assessments (3 to choose from)

$19.95
Total Value Included:
$99.80
You Pay just
$39.95