Teaching The History of Rock and Roll?
Here are 15 prepared lessons with everything you need to make this entertaining subject easy for you and save you many hours preparation time.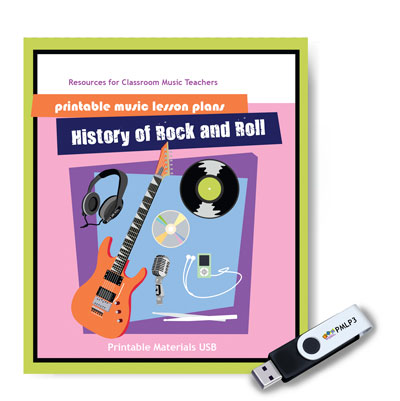 Lesson 1
How did Rock and Roll Begin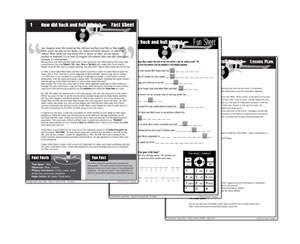 Covering Bill Haley and The Comets, Chuck Berry & Little Richard
Students will love learning about the first Rock and Roll bands – how Bill Haley brought Rock to teenagers through the movie "Blackboard Jungle", and Chuck Berry and his famous "duck walk".
Lesson 2
The King of Rock and Roll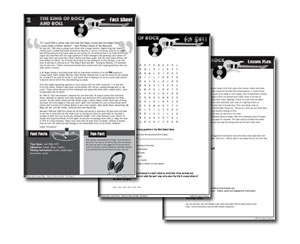 Students will learn all about the profound influence of Elvis Presley on Rock and Roll
In this lesson students will learn about the meteoric rise of Elvis Presley to prominence in the 1950's, and the reasons why he is regarded as the "King of Rock and Roll."
Lesson 3
The Day the Music Died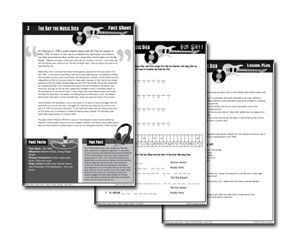 Music Lesson Plans about Buddy Holly, Ritchie Valens and The Big Bopper.
Students will learn about one of the most important events in early Rock History – the plane crash that shaped a generation, and later inspired Don McLean's song American Pie.
Lesson 4
The British Invasion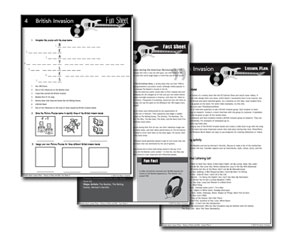 Learn about the Beatles and other British bands who dominated the pop music scene in the 1960's
In this lesson students will learn about the phenomenal impact of the Beatles, The Rolling Stones and other bands who were dubbed "The British Invasion."
Lesson 5
Soul Music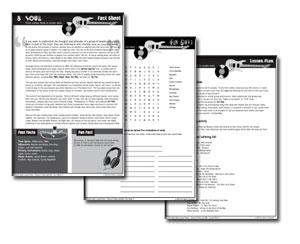 Learn about essential soul musicians who influenced Rock and Roll, including Aretha Franklin, James Brown and others.
In this lesson students will learn about the roots of Soul Music, and enjoy fun activities related to the Motown and Stax record labels.
Lesson 6
Surf Music Lesson Plans

The Beach Boys, The Mama's and the Papas, Surfaris & The Ventures and others.
Learn about the clean cut Surf Bands of the 1960's and how they dominated the charts with easy listening melodies.
Lesson 7
WoodStock Music Festival

Artists who performed at the Woodstock Music Festival and others from the era including Jimi Hendrix, Janis Joplin, Cream and The Who
In this lesson students will learn about this influential music festival in 1969. Just exactly what was so special about this time of love, peace and happiness for the people who were at this event?