Expand Your Student's Musical Horizons by Teaching Them About The History of Jazz and Blues.


Plus … Spend Less Time Preparing with 14 Ready to Use Jazz and Blues Lesson Plans!
Lesson 1
Scott Joplin

In this lesson students will look at the very roots of jazz: ragtime music.
He didn't know it at the time, but this son of a former slave set in motion a chain of events that would revolutionize music.
Lesson 2
Duke Ellington

The Big Band era of the 1920's through to the 1940's is one of the prime focuses of this module of lessons.
Students will learn about what Big Band music meant in those times and the development of it through to today.
Lesson 3
Louis Armstrong

Jazz Musicians often don't have a short career. That is so evident in the career of someone like Armstrong, who was around during the Big Band era, and was still popular throughout the 1970's and 80's.
Lesson 4
Benny Goodman

More of the Big Band era is explored in this lesson on "The King of Swing", Benny Goodman, who was the first of many artists to bring Jazz to Carnegie Hall, and a mainstream classical audience.
Students will enjoy the listening activities included with this lesson.
Lesson 5
Count Basie

Students will learn more about the distinctive sounds of Swing, Jazz and Blues in this lesson.
There are also opportunities to talk about how Jazz is structured and how musicians use lead sheets and improvisation.
Lesson 6
Glenn Miller

The Glenn Miller Orchestra was one of the most popular musical groups of the 1930's and 40s, and this lesson exposes students to the standard big band repertoire they will surely experience sometime in their lifetime.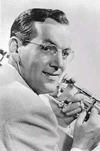 Lesson 7
Ella Fitzgerald

The "first lady of song" set the scene for female vocalists for many years to come, even today.
Learning about how she grew up, the important collaborations she had with other musicians and how a musician can become a singing superstar will really benefit your students.
Lesson 8
Billie Holiday


Billie Holiday is credited with never singing the same song the same way twice. This will give opportunities for your class to discuss the importance of improvisation in all performance, no matter what style.
Lesson 9
Sarah Vaughan

Students can learn about this amazingly talented singer, and learn all sorts of background on singing and Jazz at the same time.
Sarah Vaughan's carreer spanned many years, and many styles of jazz.
Lesson 10
Dizzy Gillespie

One of the founders of modern jazz, this trumpet great is important to include in any discussion on jazz.
Students can learn about small ensemble jazz, improvisation and how musical groups are put together.
Lesson 11
Charlie Parker

Where would a discussion on the history of Jazz be without looking at arguably the most famous Jazz Saxophonist who ever lived?
Parker's influence and the development of the bebop style led Jazz in an entirely new direction in the 1950's and 60's.
Lesson 12
Miles Davis

Miles Davis is the quintessential "cool jazz" musician. This lesson gives students the opportunity to explore what it means to be "cool" on stage: The attitudes, the style and the behaviour that many rock musicians also copied.
Lesson 13
Herbie Hancock

This lesson explores the development of jazz, and the mixture of jazz with other styles to develop jazz-fusion.
Also a musician with an incredibly long career: learning about Herbie Hancock will help students understand more of what it takes to make a living a musician.
Choose between complete Fact Sheets and "Fill in the Blanks" versions
Every lesson contains two fact sheets, and it is your choice on which you use. You can have the full fact sheet, with the complete story written on it for the students to read together;
OR… You can have a "fill in the blanks" factsheet where students will have to fill in key points during the lesson. This is aligned perfectly with the included powerpoint presentations which are demonstrated below.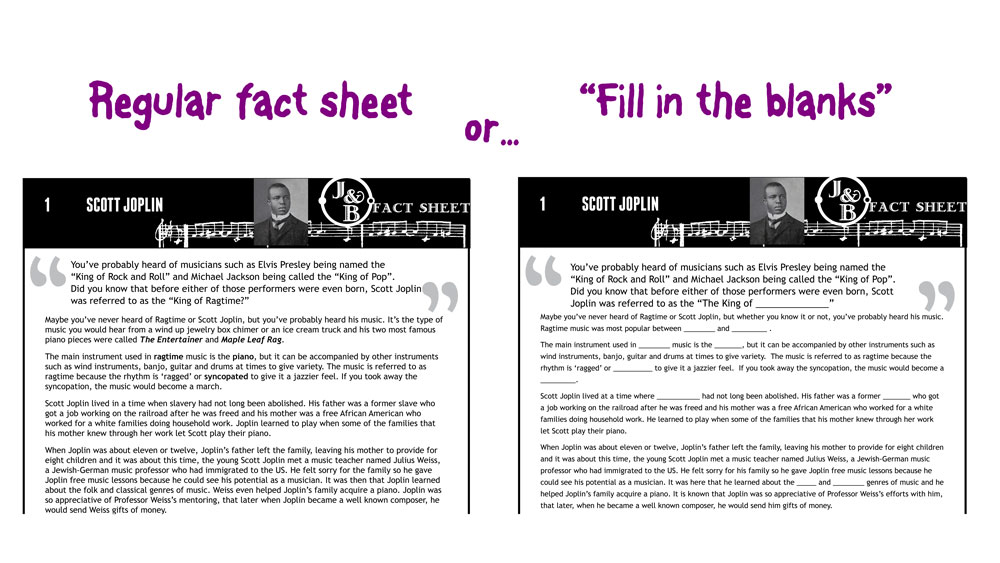 Frequently Asked Questions
Printable Music Lesson Plans Module Four Great Artists of Jazz and Blues

14 Lessons covering the history of jazz by looking at individual artists who have influenced its development.

Lesson One Scott Joplin
Lesson Two Duke Ellington
Lesson Three Louis Armstrong
Lesson Four Benny Goodman
Lesson Five Count Basie
Lesson Six Glenn Miller
Lesson Seven Ella Fitzgerald
Lesson Eight Billie Holiday
Lesson Nine Sarah Vaughan
Lesson Ten Dizzy Gillespie
Lesson Eleven Charlie Parker
Lesson Twelve Miles Davis
Lesson Thirteen Herbie Hancock
Lesson Fourteen B.B. King

$39.95
Bonus Lesson Content Module Glossary
Compiled Student Workbook
Answer Key
$19.95
Bonus Powerpoint Presentations Prepared & Customizable Presentations for all 14 lessons
$19.95
Bonus Resources Area Helpful links to recordings and other resources
Priceless!
Bonus #4 Completion Assessments (3 to choose from)
$19.95
Total Value Included:
$99.80
You Pay just
$49.95