Expand Your Student's Musical Horizons by Teaching Them About The History of Jazz and Blues.


Plus … Spend Less Time Preparing with 14 Ready to Use Jazz and Blues Lesson Plans!
Lesson 1
Scott Joplin

In this lesson students will look at the very roots of jazz: ragtime music.
He didn't know it at the time, but this son of a former slave set in motion a chain of events that would revolutionize music.
Lesson 2
Duke Ellington

The Big Band era of the 1920's through to the 1940's is one of the prime focuses of this module of lessons.
Students will learn about what Big Band music meant in those times and the development of it through to today.
Lesson 3
Louis Armstrong

Jazz Musicians often don't have a short career. That is so evident in the career of someone like Armstrong, who was around during the Big Band era, and was still popular throughout the 1970's and 80's.
Lesson 4
Benny Goodman

More of the Big Band era is explored in this lesson on "The King of Swing", Benny Goodman, who was the first of many artists to bring Jazz to Carnegie Hall, and a mainstream classical audience.
Students will enjoy the listening activities included with this lesson.
Lesson 5
Count Basie

Students will learn more about the distinctive sounds of Swing, Jazz and Blues in this lesson.
There are also opportunities to talk about how Jazz is structured and how musicians use lead sheets and improvisation.
Lesson 6
Glenn Miller

The Glenn Miller Orchestra was one of the most popular musical groups of the 1930's and 40s, and this lesson exposes students to the standard big band repertoire they will surely experience sometime in their lifetime.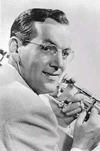 Lesson 7
Ella Fitzgerald

The "first lady of song" set the scene for female vocalists for many years to come, even today.
Learning about how she grew up, the important collaborations she had with other musicians and how a musician can become a singing superstar will really benefit your students.
Lesson 8
Billie Holiday