With simple Music Flashcards you can get your students remembering Note names, technical names and those dreaded Italian terms!
Best of all – you can make it FUN!

Dear Music Teaching Friend,
I remember the first students I took through examinations – I remember it like it was yesterday!
We worked really hard on the pieces, the scales and technical work and we knew all the aural exercises the student needed to do. I remember looking through the exam syllabus thinking "I'd better check the students general knowledge", so in the last lesson I pointed to a note and said:
"what kind of note is that?"
I was expecting to hear "That's a crotchet", or "That's a quarter note"
I just got back a blank look.
"What's the rhythm name?" I said
"What's a rhythm name?" I got back
"Its time name" I said
"What's a time name?"
Whoops! I think something's been missed somewhere in this student's education! Of course I spent an extra hour or so with this particular student and they got through alright, but it taught me a very valuable lesson about how students learn.
I could of course blame their theory teaching, the school system or the parents… but I can't do that. The student needs to know these things, and it is my responsibility to make sure that they know it.
I then started using flashcards in my lessons. I just made some simple ones that matched the various notes and symbols that the children needed to know for their exams.
It became a game – I simply showed them each card, and they had to answer within two seconds or they'd lose a point. It was great fun, even for older children who I thought would be past games. They loved it, and it was part of the routine. It took less than one minute per lesson to quickly run through five or six general knowledge concepts that they had to know, and it resulted in them always getting 100% in the general knowledge section of their exams.
My flashcards were pretty primitive – I simply wrote the symbols on pieces of card and covered them with clear plastic.
When I married my husband we started creating our own flashcards on the computer. My husband also taught theory, so we developed hundreds of different cards that suited the various teaching situations.
Introducing:
The Ultimate Instant Print Flashcard set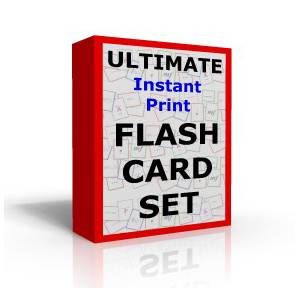 In the Ultimate Instant Print Flashcard Set you get a comprehensive selection of printable flash cards that you print yourself, right from your computer.
You might think "Wouldn't it be better to get them pre-printed?"
If you got cards pre-printed you'd have to worry about losing them – the box would end up looking pretty tired and used and you'd have to constantly sort through a whole heap of cards that you might never use.
Just think – Wouldn't it be great if you could go to your computer and print out exactly the set of flashcards you needed for a particular student, and you can pop a rubber band around them and keep them for just this student?
Then, next time you see this student you've got their flashcards all ready for them.
Alternatively you can print out all the cards and organize them into your grade or examination levels that you need. That way, whenever you have a student doing a particular grade you can pull out the appropriate set.
Its impossible to do this with a pre-printed set of cards, as there is likely only one or two of each card!, not enough for each grade to have everything.
Completely Self Checking cards – means the students can test themselves!
Each card in "The Ultimate Flashcard Set" is designed so that you simply fold and glue them together, and the answer is on the back!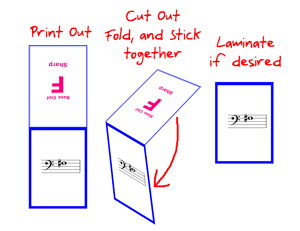 Here's what is included: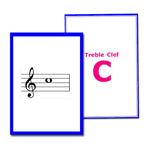 Basic Pitch Flashcards
9 Pages (36 cards)
All pitches from Bass Clef C (2nd Space) through to Treble Clef C (3rd Space).
Clef Flashcards
All Clefs including Treble, Bass, Tenor, Alto, placed on a stave so that you can see their correct positions.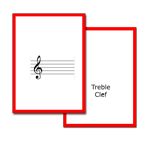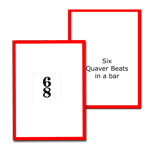 Time Signature Flashcards
All common Time Signatures including: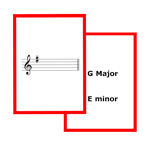 Key Signature Flashcards
(30 Cards)
All key signatures in the treble and bass clefs, up to seven sharps and seven flats. On the back is both the Major and Minor Keys they represent.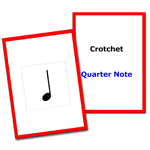 Rhythm Symbol Flashcards
4 Pages (16 cards)
Common notes and rests:
These have both the European time Name (Crotchet, Quaver etc) AND the American Time Name (Quarter Note, Eighth note etc), so you can use whatever terminology you wish.
Here are the symbols included in this set: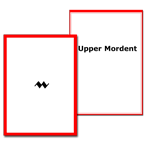 Miscellaneous Symbol and Ornament Flashcards
5 Pages (20 cards)
In this set you'll find a mixture of common and uncommon symbols. We have tried to cover absolutely everything you might find in a general knowledge section of a practical or theory examination. We've even included the different ornament symbols, such as upper and lower mordents, acciaccatura and appoggiatura (one for the advanced theory students this one!)
The concept is that you don't have to print the whole lot – you print what you need. Don't worry if you aren't teaching these things – you might one day, and you're students may well have to know the difference between the sign for an upper or lower mordent.
Thanks to our unique get what you need guarantee (please read below) we intend to supply the most comprehensive set of instant print music flashcards available anywhere.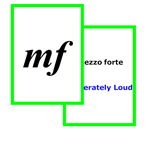 Dynamics Flashcards
We've included all the various dynamic symbols from pp right through to ff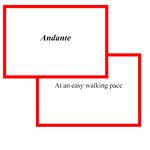 Italian Terms
Anyone who has ever done any examination, particularly a theory examination knows that you have to learn a LOT of Italian terms.
Every examination system (Trinity College, ABRSM etc) has a different requirement, and so we did not make this set for any particular group, rather we have combed the syllabi for ABRSM, Trinity College and the AMEB (Australia) to include every single term we could find.
Here is the list included so far:
A Piacere
A Tempo
Accelerando
Ad libitum
Adagietto
Adagio
Affrenttando
Agitato
Allargando
Allegretto
Allegro
Andante
Andantino
Animato
Appassionato
Arco
Assai
Attaca
Ben Marcato
Calando
Cantabile
Cantando
Capriccioso
Celere
Con anima
Con brio
Con energia
Con espressione
Con forza
Con fuoco
Con grazia
Con Moto
Con tenerezza
Con vivacita
Crescendo
Da capo al fine
Dal segno
Deciso
Decrescendo
Delicato
Diminuendo
Dolce
Dolento
Doloroso
Doppio Moveimento
Doppio Tempo
Energico
Forte
Forte-piano
Fortissimo
Forza
Furioso
Giocoso
Giusto
Grandioso
Grave
Grazioso
Grazioso
L'istesso tempo
Largamente
Larghetto
Largo
Legato
Leggiero
Lento
Loco
Maestoso
Main droite (fr.)
Main gauche (fr.)
Mancando
Mano Destra
Mano Sinistra
Marcato
Martellato
Meno Forte
Meno Mosso
Meno Piano
Mesto
Mezza Voce
Mezzo Forte
Mezzo Piano
Mezzo staccato
Moderato
Molto
Morendo
Mosso
Non troppo
Opus
Perdendosi
Pesante
Piacevole
Pianissimo
Piano
Piu Forte
Piu lento
Piu Mosso
Piu Piano
Pizzicato
Poco
Pomposo
Portamento
Prestissimo
Presto
Quasi
Rallentando
Rinforzando
Risoluto
Ritardando
Ritenuto
Rubato
Scherzando
Scherzoso
Semplice
Sempre
Senza
Serioso
Sforzando
Smorzando
Sonore
Sostenuto
Sotto Voce
Staccato
Stretto
Stringendo
Subito
Sul ponticello
Sul tasto
Tempo Commodo
Tempo giusto
Tempo Ordinario
Tempo Primo
Teneramente
Tenuto
Tosto
Tranquillo
Tranquillo
Tre corda
Tremolo
Una corda
Veloce
Vivace
Vivacissimo
Vivo
Volta
Volti Subito (V.S.)
This is a dynamically growing list, and as teachers email in their requirements for the different students they have the list is sure to grow. Our Unique "Get What you Need" Guarantee means that this flashcard set will become the most comprehensive set of flashcards available, and the best bit is that it is controlled by YOU, the teachers who use it in lessons.
Guarantee #1
Get What YOU Need
At the Fun Music Company we want "The Ultimate Flashcard Set" to be the most comprehensive set of instant print musical flashcards available on the internet.
If you require a musical symbol, an Italian term or another musical concept which is not included in the flashcard set all you have to do is email The Fun Music Company and we will create it for you, and add it to the set.
Its not a bother to us to create it, as it will add value to the set in the long term for all the teachers using it.
This way, in the long term we will be sure to have a complete set of every term that is required to teach music, anywhere in the world.
You also get lifetime access to updates and revisions, which means that if additional terms are added to the syllabi you are using, you simply can email us and we'll create new cards and add them to the set.
Guarantee #2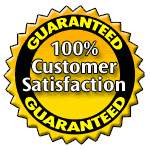 100% Satisfaction Guaranteed
Not 30 Days, but extended to 90 Days for complete peace of mind!
At the fun Music Company we stand behind everything we sell. If for whatever reason you decide that you aren't satisfied with your purchase we will of course refund your money – all you have to do is let us know within 90 days why you feel the purchase is unsuitable.
Save yourself hundreds of hours work preparing materials
Of course you might think to yourself "I can make these cards myself – I just need to find the clipart on the internet and lay them out on my computer"
Yes you can do that If you wish.
It depends on how much you value your time.
It can take anywhere from ten minutes through to a number of hours to make flashcards, design the borders and make sure they print correctly. To make hundreds of flashcards will take you many hours work, and I'm offering this entire set to you for the ridiculously small investment of just $19.95.
If you value your time at all you will quickly see that this small amount of money will save you many hours preparation time – You simply come back to the members only website and print out what you need, when you need it.
For around the cost of ONE MUSIC LESSON you can have access to all these instant print flashcards, and you can print them out straight away from your computer.
If I had been able to find something like this when I was teaching it would have saved me many hours of frustration trying to learn how to create a good flashcard on the computer, and probably hundreds of hours work.
So do yourself a favor, get started straight away with the Ultimate Flashcard set by clicking the button below. You will get immediate access to the materials, and you'll have lifetime access to all the updates.
So go ahead, you have nothing to lose, except perhaps the hundreds of hours work that it will cost you if you DON'T get started now with the ultimate instant print flashcard set!
I really want you to make it fun for your students to learn their general knowledge, and you can do with flashcards like these!
Digital Download Self-print Product
Nothing needs to be shipped
Have a musically inspired day,


P.S. Make sure you take your chance to get these cards now, as I can only guarantee this price for a limited time!
P.P.S. These flashcards are FREE as a bonus with our Printable Music Games package.Click Here to find out how you can grab them FREE with 20 games for music lessons.
P.P.P.S You have absolutely nothing to lose, as our guarantees mean that if you need flashcards for music lessons you'll get what you need with this product!