Do you want to instantly print large format flashcards – ideal for classroom use?
These flashcards will save you time and energy by having what you need every single time
Music Theory Fun Sheets Classroom Flashcards:
Are Perfectly matched to the content in Music Theory Fun Sheets Modules 2, 3 and 4
Print in Large Format, half page size perfect for classroom use
Perfectly describes instruments, so you always have a picture on hand of each instrument, even if your school doesn't own them
Contains all the terms and basic musical symbols you'll need for most classroom situations
The flashcards are half page size – so if you wish you can stick them onto cardboard or laminate them, or if you wish you could pin them up on the walls so that students have a reference of what each thing looks like.
They are presented in three sets, which match the Instant Print Music Lesson Modules
Classroom Flashcard Set – Symbols
This set of 32 flashcards (16 Pages) contains all the common symbols used in Music Theory Fun Sheets Module Two (Musical Symbol Code Breakers). It includes the basic note types such as Crotchet or Quarter Note, Minim or Half Note, and all their corresponding rests, as well as articulation symbols such as staccato and legato, accents, coda markings and basic clefs.
It is not comprehensive by any means, but it does contain all the basics that students need to know and be familiar with to succeed in reading music. There is deliberately no names written on the cards, so that they can be used for guessing games and so they can be used with either European or American Terminology.
Classroom Flashcard Set – Musical Terms
This contains all the terms included in Module Three (Musical Symbol Code Breakers) of Music Theory Fun Sheets.
It starts with simple ones such as Andante and Allegro, and moves through to more advanced ones such as Pesante, Perdendosi and Con Moto.
Classroom Flashcard Set – Instruments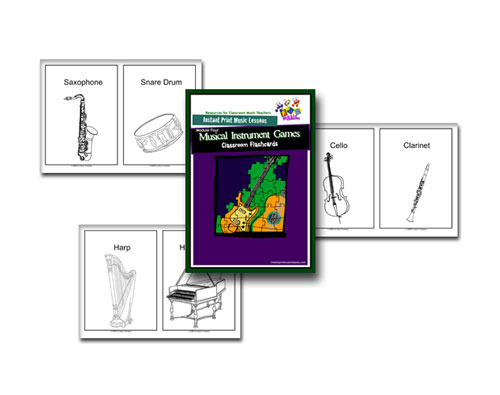 This flashcard set includes all the instruments from Module Four (Musical Instrument Games) as simple line drawings, that you can use for classroom games or simply as reference pictures around your walls. They can even be used for colouring in sheets if desired!
The Classroom Flashcards are only available as bonus items with Music Theory Fun Sheets, Modules Two, Three or Four, or the complete package