Attention: anyone teaching general music, either in upper elementary/primary school or junior high school.
Get 14 prepared world music lesson plans and save yourself hundreds of hours lesson preparation time!
Lesson 1
What is World Music?

An overview of the term "World Music" and what it means today. World Music festivals are held in many different countries, and there is probably one near you! Just what are the defining factors that makes something "World Music"? This lesson provides a great introduction
Lesson 2
African Music

Africa is such a huge continent, with hundreds of different languages and cultures. This lesson just touches on the huge amount of music learned in Africa. Students will discuss colonialism in Africa, the trading of African slaves and the impact that this has had on the musical development of the rest of the World.
Lesson 3
Indonesian Gamelan

The Gamelan orchestra's of Java and Bali are one of the most fascinating world music styles that one can be exposed to. Students will learn about all the different Gamelan instruments, and explore scales that give the music such a unique sound. There is even opportunity for students to play their own percussion instruments in Gamelan scales!
Lesson 4
Chinese Music

How many Westerners know the names of traditional Chinese musical instruments? I certainly didn't know anything about an Erhu, a Guquin or a Pipa until I started preparing these lessons! In this lesson students will also learn a little about China's political history, and the impact that this has had on the development of popular music styles.
Lesson 5
Indian Music

Traditional Indian music, using the sitar, tabla and other instruments has basically not changed for hundreds of years. With this amount of culture and background behind it students will discover what it would take to become a master on one of these instruments, and the influence that it has had on Western popular music.
Lesson 6
Irish Music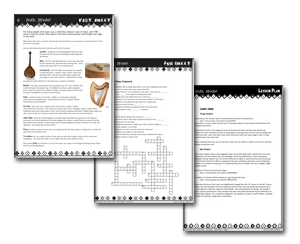 In this lesson students will learn about the foot tapping, hand clapping infectious rhythm of Irish jigs that is so popular in many countries today.
Lesson 7
Turkish Music

This lesson was going to be about "middle eastern music", but with that topic so broad, and an opportunity to get a lesson written by an expert in Turkish musical styles we decided to just make it about Turkey – a country that geographically is like a "bridge" between the east and the west, and really is like that with its music as well.
Lesson 8
European Folk Music

This is one of the biggest lessons in the module, and could even be spread over a couple of weeks, it covers so much material. Students will learn about the different regions of Europe, and the different instruments and musical styles that are prevalent in each region.
Lesson 9
Spanish Music

What world music subject would be complete without talking about the birthplace of the guitar, Spain. The students will discover the important musical styles of Spain, including Flamenco and Tango, and how they have influenced other countries and styles.
Lesson 10
Calypso Music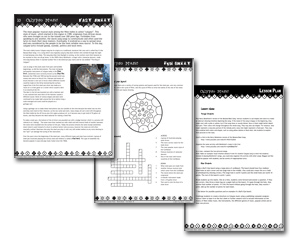 Once again we started with the idea of "West Indian music", and found the subject way too broad given the differences and range of influences around the Caribbean islands. for this reason we discuss just one style found in the Caribbean – Calypso, and discover one of the most interesting instruments developed in the last hundred years – the steel drum.
Lesson 11
Japanese Music

Another country with an amazingly rich traditional culture – Japan has so many gifts to give us with music. From the amazing and energetic taiko drumming to the peaceful and almost trancelike music of the Koto and Shamisen
Lesson 12
Lesson Twelve

Possibly one of the most important lessons of this module, as it gives some of the background of many of the Latin American dance styles that are so popular today. Students will discover the background of the Conga and Bongo drums, and learn to play the clave – the five note pattern which is the basis of many styles.
Lesson 13
Brazilian Carnival!

This lesson focusses on the samba style of Brazil, and particularly the street samba performed in the yearly Carnival. This is truly of the most biggest and most interesting festivals held in the world, and being able to expose students to the music featured in it is a brilliant opportunity.
Lesson 14
Mexican Music

Mexico in central America has a very interesting musical tradition. It's much more than three mariachi guys standing there in big hats playing the guitar! Students will discover the different musical styles that make up Mariachi, and the instruments used in them.
World music lesson plans fact sheets
World Music Teaching Materials FAQs
Printable Music Lesson Plans Module Five
World Music Teaching Resources14 Lessons covering 14 common traditions of World MusicLesson One What is World Music?
Lesson Two Music of Africa
Lesson Three Indonesian Music – The Gamelan
Lesson Four Music of China
Lesson Five Indian Music
Lesson Six Irish Music
Lesson Seven Turkish Music
Lesson Eight European Folk Music
Lesson Nine Spanish Music
Lesson Ten Calypso Music of the West Indies
Lesson Eleven Japanese Music
Lesson Twelve Cuban Music
Lesson Thirteen Brazilian Carnival
Lesson Fourteen Mexican Music
$39.95
Bonus Lesson Content
Compiled Student Workbook
Answer Key
$19.95
Bonus Powerpoint Presentations Prepared & Customizable Presentations in both Powerpoint (for PC) and Keynote (for Mac) for all 14 lessons
$19.95
Bonus Resources Area
Helpful links to recordings and other resources
Priceless!
PLUS Unlimited access to updates and revisions
Priceless!
Bonus #4 Completion Assessments (3 to choose from)
$19.95
Total Value Included:
$99.80
You Pay Just

$49.95