There's a new music related Google Doodle on the scene that's set to rival some of the most memorable Doodles yet! The doodle posted on the Google homepage recently was in honour of Dr Robert "Bob" Moog in celebration of his 78th Birthday. For those who are unfamiliar, he was the inventor of the Moog Synthesizer who took musical performance into the Electronic Age. The good news is that it's still accessible to everyone – so even if you missed it on the Google homepage a couple of months ago,  you'll still be able to get to it anytime and waste many more hours hashing out the opening of Europe's "The Final Countdown" .
To celebrate Moog's birthday, Google continued the example set with the success of the Les Paul Guitar and made a fully interactive playable Moog Synthesizer and dubbed it the "Mini Moog" which also doubles as a google logo. Much like the Les Paul Guitar, you can use your mouse or computer keyboard to control the keys and knobs and you can record, play back and share songs via short links or Google+.
In addition to the playing and recording features, there are a number of sound effect options including mixers, oscillators, filters, envelopes and there's also a dial for pitch of the left side of the Doodle making this one of the top listing cool-factor gadgets from Google to date.
Anyway, you can find out more about how to play it by watching this YouTube video by Marc Doty.
There are also many YouTube videos emerging of songs played on the "Mini Moog". This example of Goyte's song "Someone I used to Know" played and arranged by Joe Jeremiah is one of the most tasteful demonstrations I've seen to date and shows the full potential of the interactive instrument which would be fun and inspiring for music classes and students to watch.
All Google need to come up with now is an interactive drum set and we'll have the full band to play around with. But for now, to make the interactive Google Doodle instruments it more accessible to teachers and students we've provided links below to open them in a new window with no distractions. You can open these on the interactive whiteboard so that you won't need to bother with pop up windows and other distractions.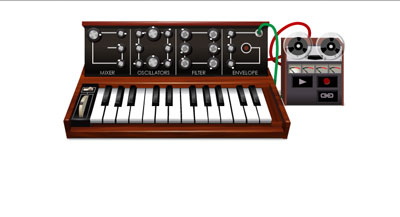 Click here to open the Moog Google Doodle in a new window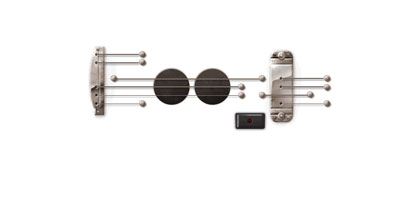 Click here to open the Les Paul Doodle in a new window

But now I'd like to hear from you. What are your favorite Google Doodle songs so far? What songs do you think would work well for playing the "MiniMoog and Les Paul Guitar Together as a Google band? Since iPad bands are becoming more popular, maybe this could become another option for a novelty performance idea.