A post by Janice on Music Lesson Plans: Worksheets to help with Teaching Major Scales
If you need theory worksheet content to help with teaching major scales then you may find that our Printable Music Theory Books could become an invaluable companion in your resource kit. This is a book of comprehensive book of worksheets designed for you to print as many times as you need for your classes and is jammed packed with 100 pages of simple, straight to the point, quick music theory worksheets which have been edited and endorsed by leading music educators and fits in with the major exam systems around the world. It's a perfect system for junior high school students to use in their general classroom programs or for studio teachers to use with small groups and individuals.
As former music teachers ourselves, we understand how heavy the pressures of continually coming up with relevant and professional looking theory content can be. You can literally spend hours and hours of your own time making similar worksheets and books yourself, so this product was invented with this need in mind.
Here is a screen capture shot of the printable Music Theory Books major scales page and you'll see how easy it is for students to follow and complete. In total there are 12 of worksheets and activities on major scales alone in this system starting from the very basic beginnings and progressing step by step through to cover scales up to 4 sharps and flats.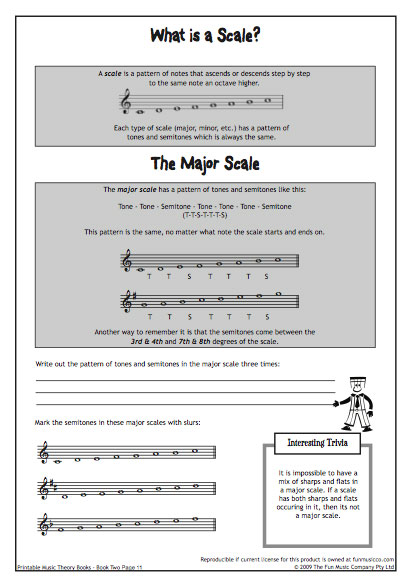 You'll notice these worksheets deal with one new concept at a time. They are designed specifically so they don't give too much information too quickly and won't confuse our students with too many new terms or technical jargon.  Students completing this level worksheet would benefit from having done prior work in semitones and tones and general note naming.
You could  even leave a few gaps in the top information section and make it into a whole class presentation on the whiteboard  for more active whole class discussion and learning.
For more information on the Printable Music Theory Books resources , just visit our website where  you'll find a flip book so you can view the one hundred worksheets and can get more detailed video information on the product.